The ASA ThanksGiveaway Raffle Has Ended
Thank you to everyone who supported ASA during this campaign!
Congrats To Our Winners:
Brittney B.; Soddy-Daisy, TN

Manny G.; Tucson, AZ

Steve S.; Pearland, TX

Timothy M.; Port Charlotte, FL

Jerry J.; Ennis, MT

Ronald T.; Palm Harbor, FL

David M.; Brentwood, TN

Dan S.; Rising Fawn, GA

Robb H.; Lexington, NE

Brant S.; Elgin, TX
OWNING A SUPPRESSOR IS YOUR CONSTITUTIONAL RIGHT!
10 PRIZE PACKAGES
$22,000+ COMBINED VALUE
SUPPRESSED AR-15 RIFLE PACKAGE
SUPPRESSED BOLT-ACTION RIFLE PACKAGE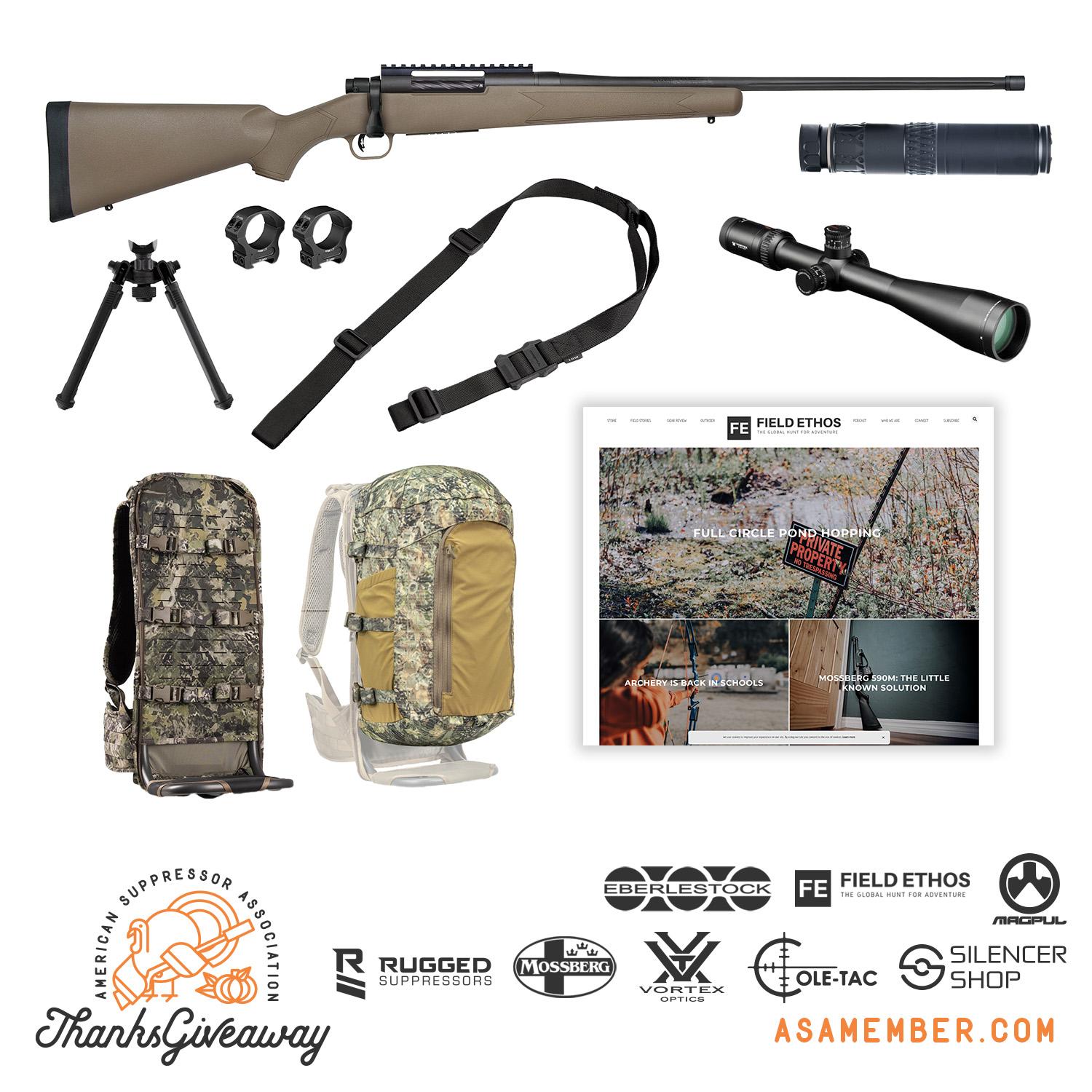 SUPPRESSED Bolt-Action RIFLE PACKAGE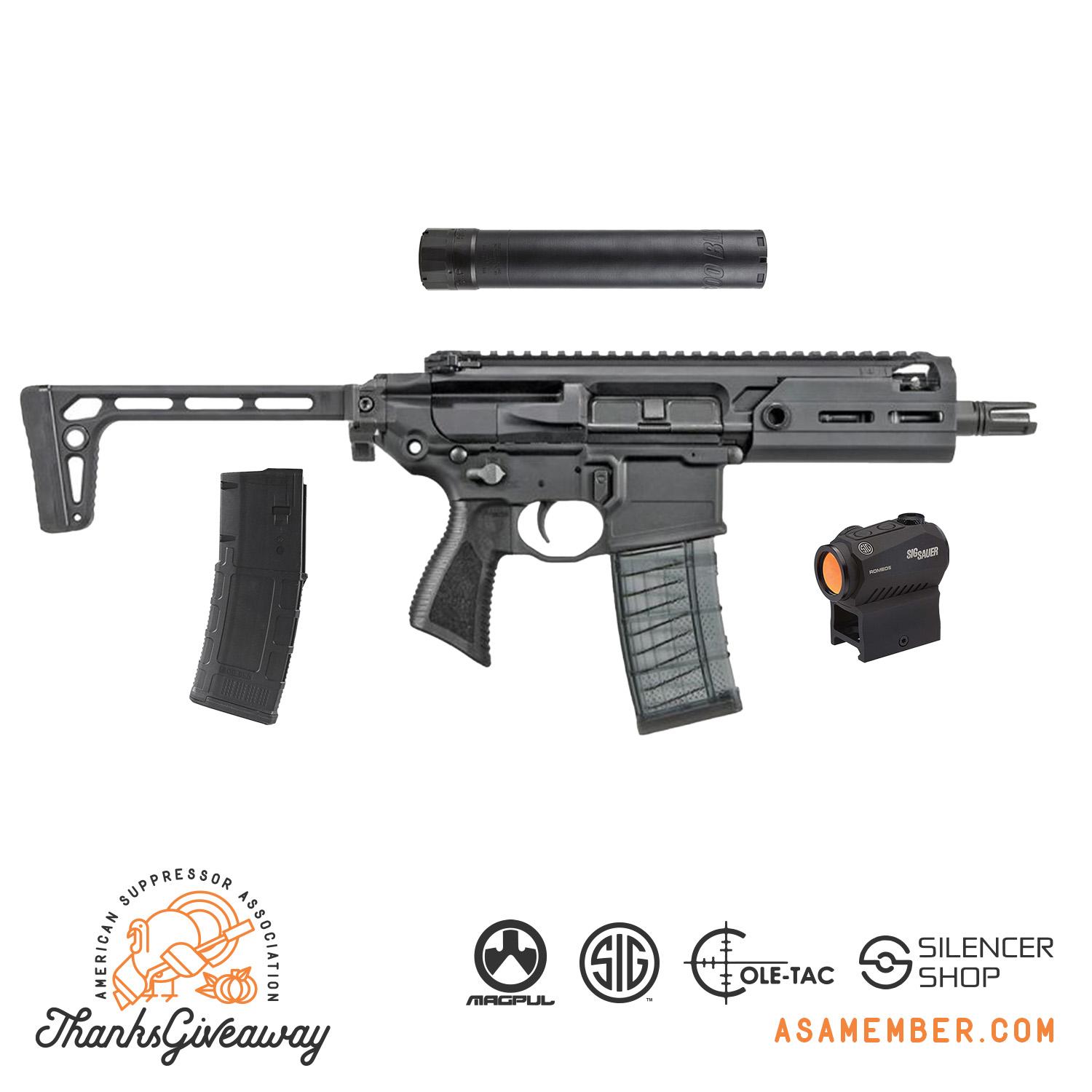 SUPPRESSED AR-15 RIFLE PACKAGE
SUPPRESSED SINGLE-SHOT RIFLE PACKAGE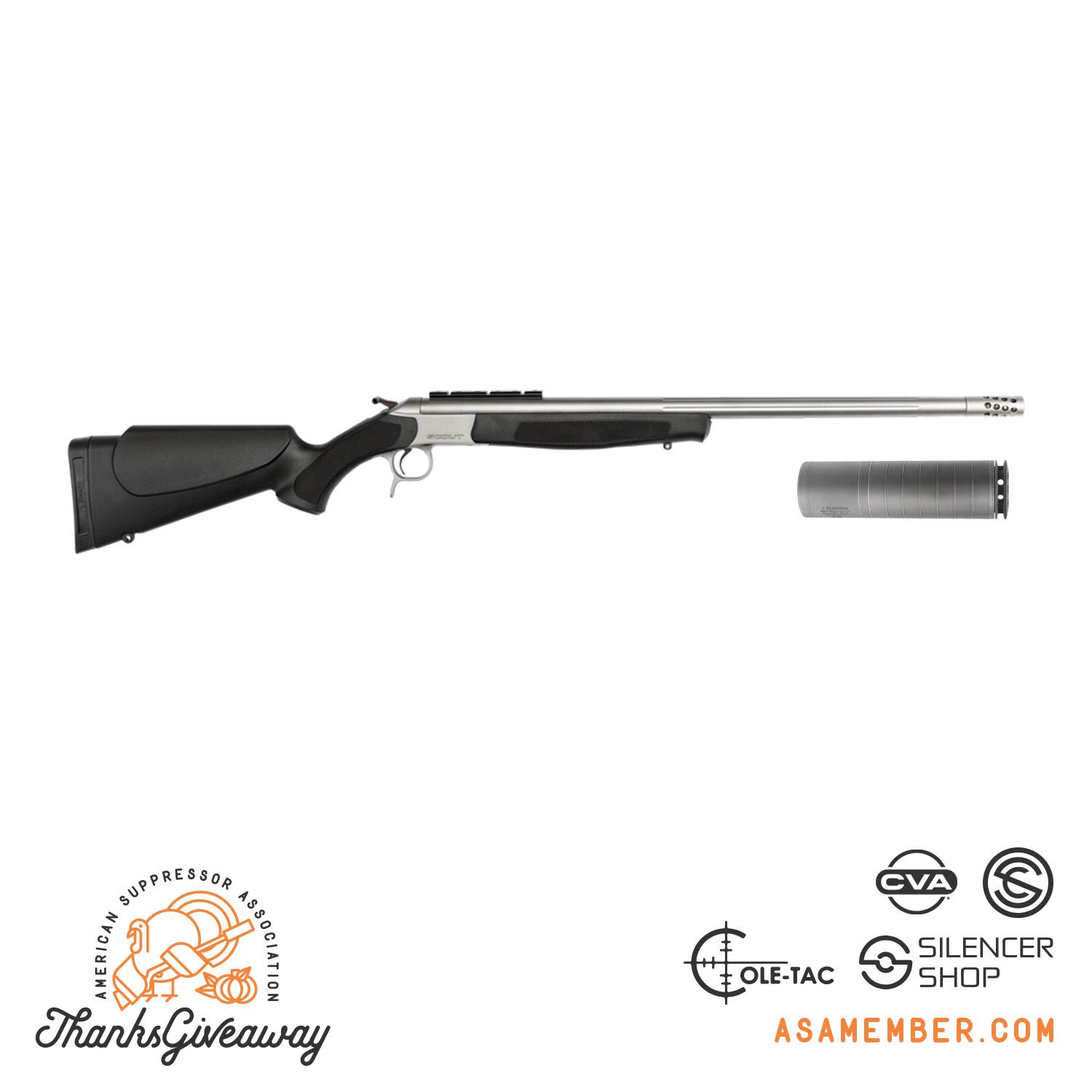 Huxwrx 5.56mm Suppressor PACKAGE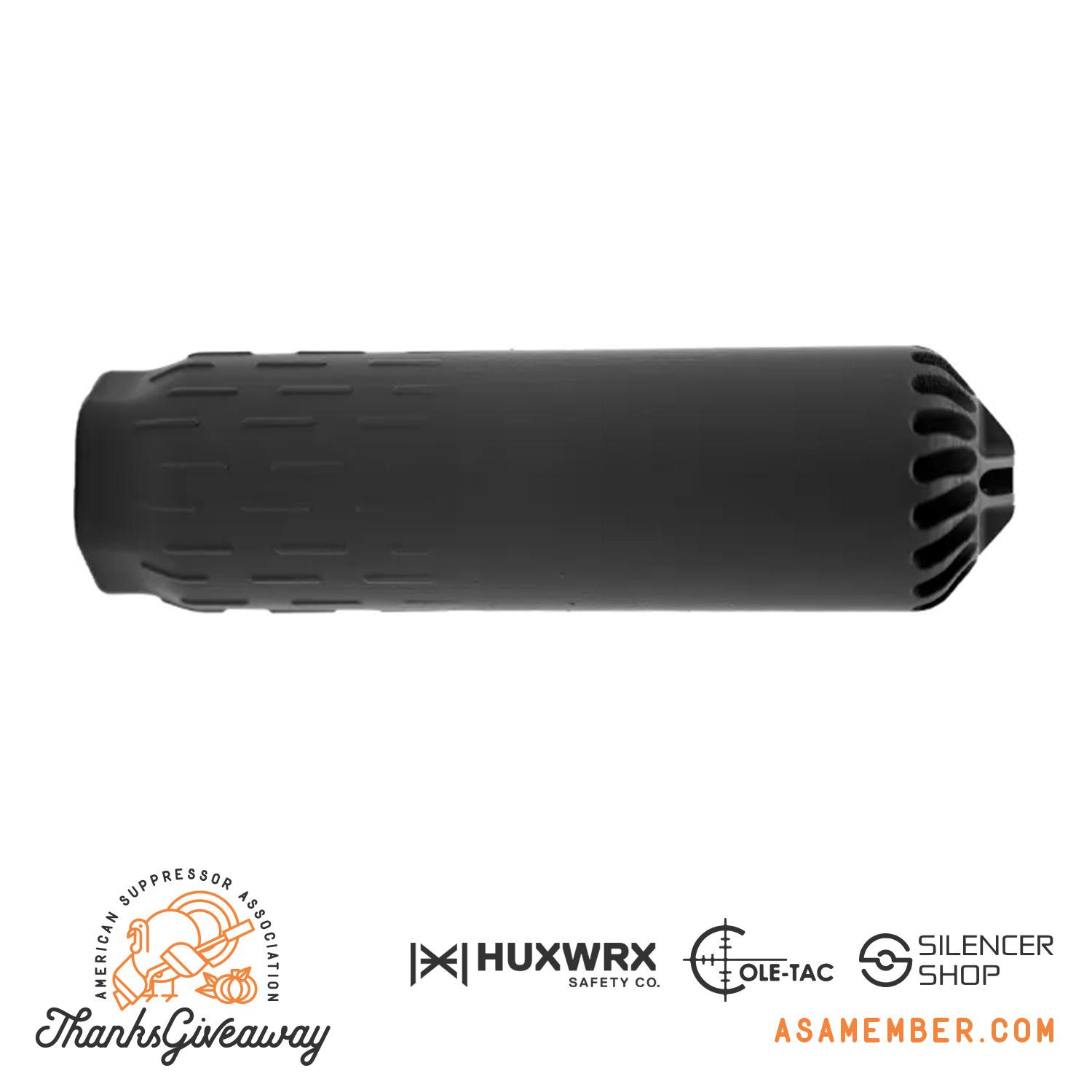 9mm Suppressor & Ammo Package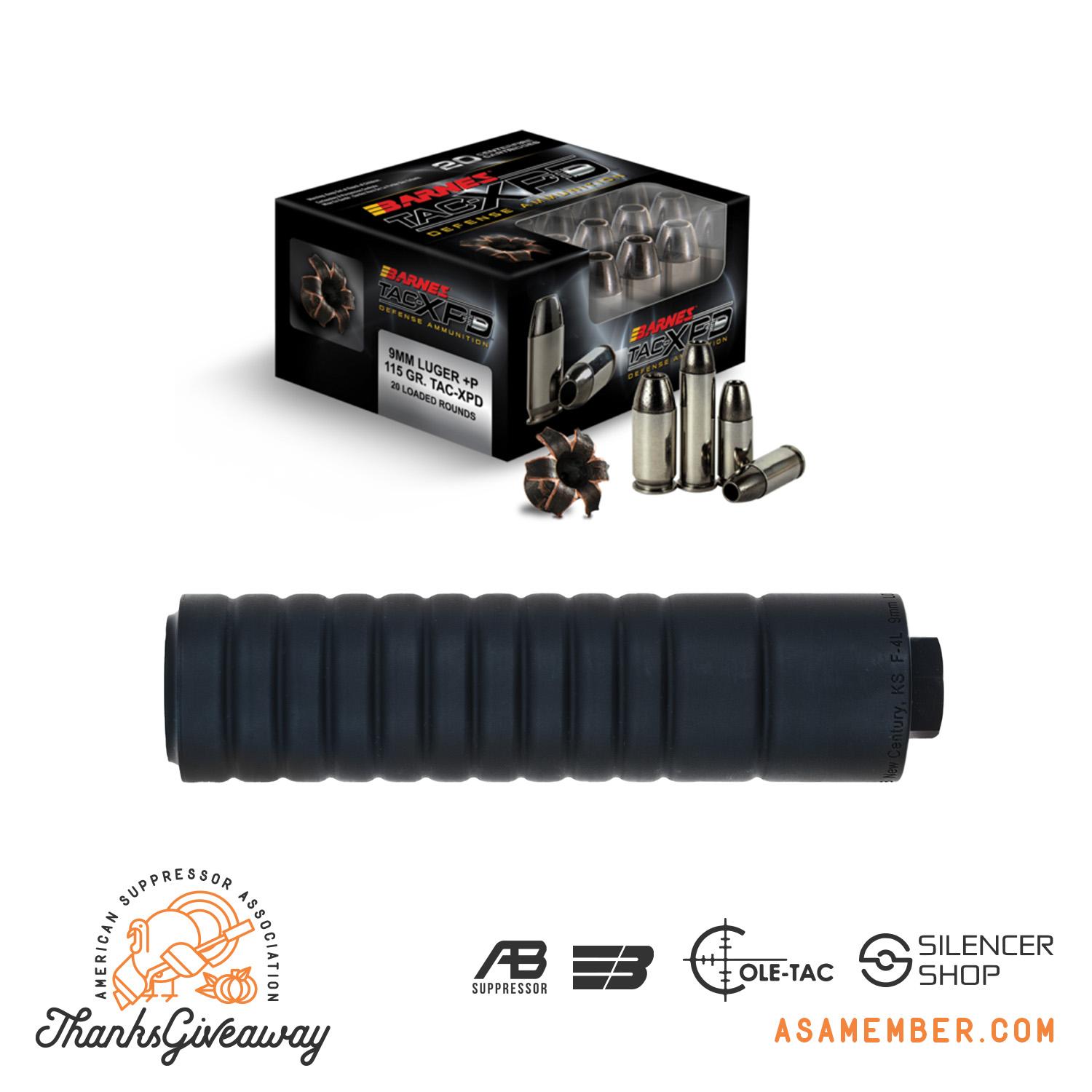 GUNSITE 3-Day PISTOL TRAINING COURSE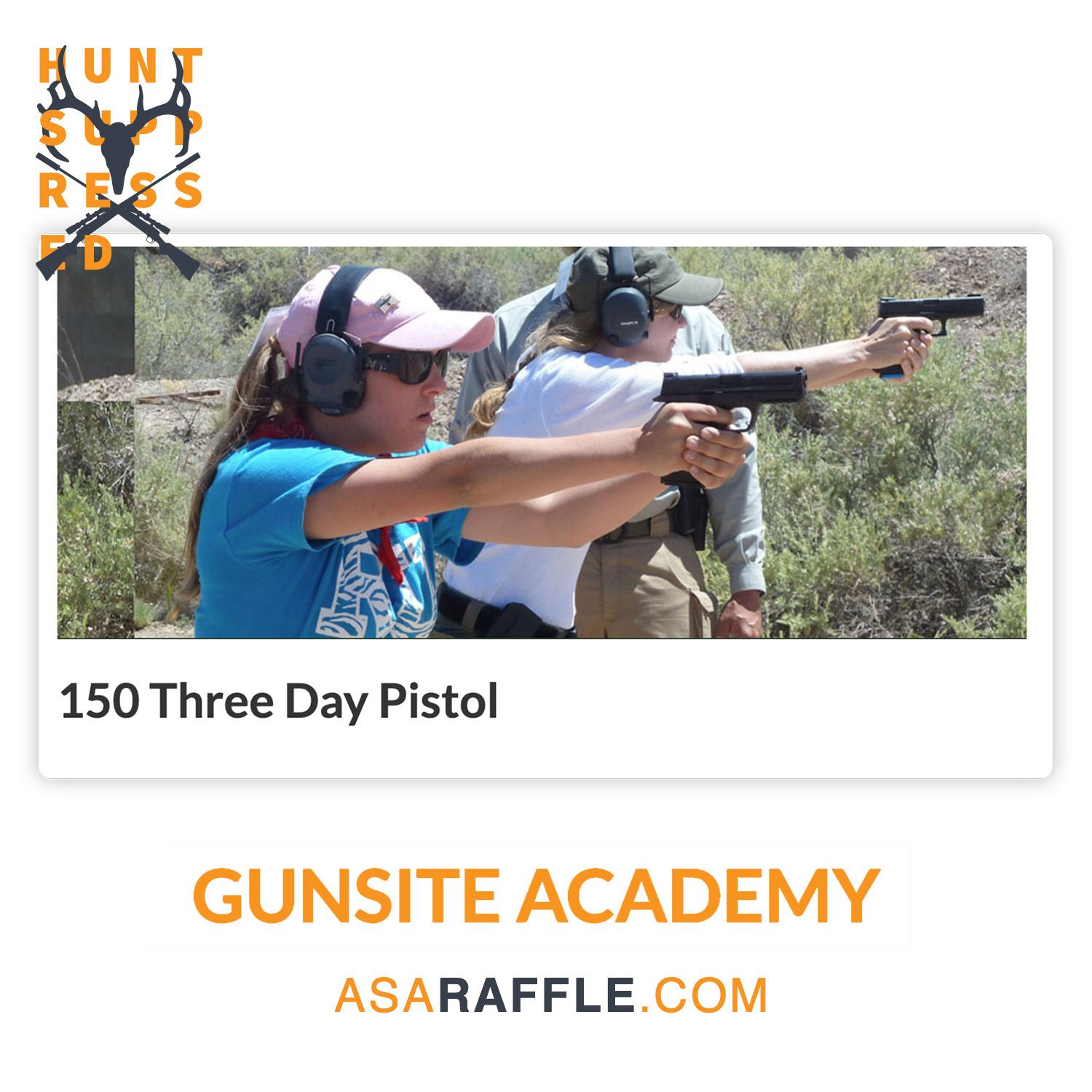 On Location at Gunsite - Paulden, AZ
Dead Air 7.62mm SUPPRESSOR PACKAGE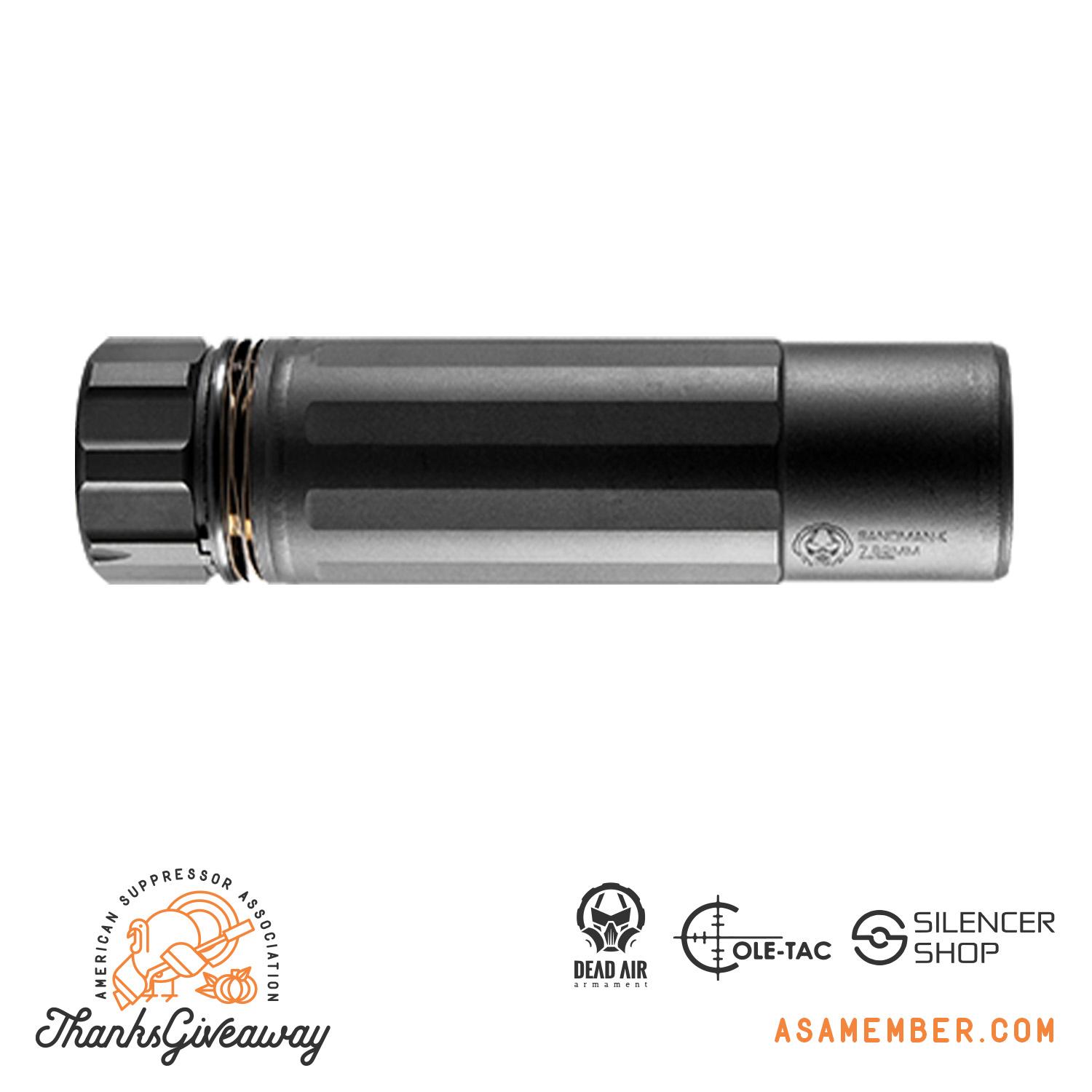 AAC .45 Pistol SUPPRESSOR PACKAGE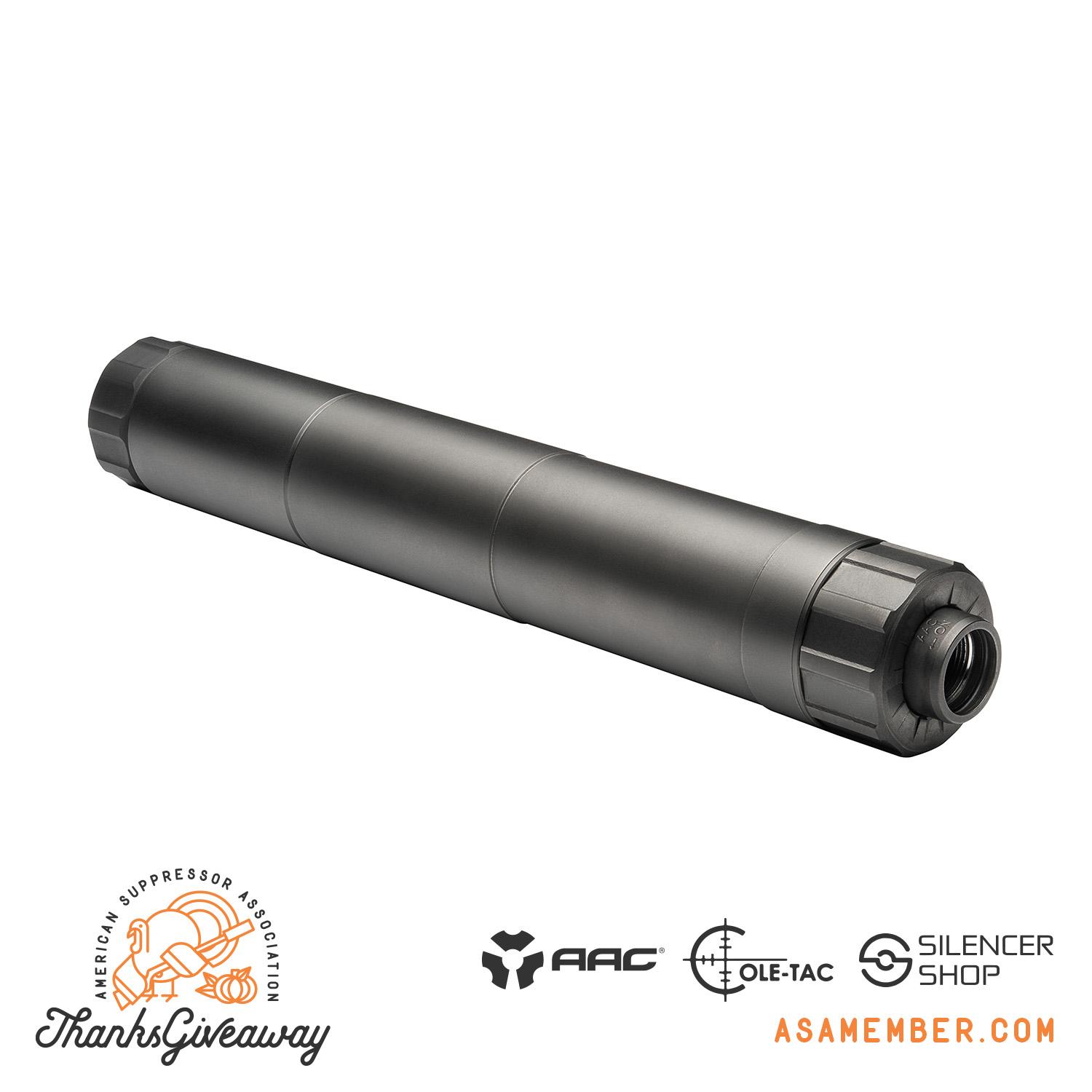 The American Suppressor Association will never stop fighting for your rights!
Since forming in 2011, our priorities haven't changed. They are:
ASA will combat any attempt to ban, confiscate, or further regulate suppressors
We held the line in New Mexico & Virginia when anti-gun legislators tried to ban suppressors. State or Federal, our top priority will always begin with holding the line.
ASA will fight to remove suppressors from the National Firearms Act
The NFA is an unjustified tax that should be abolished. ASA will continue to lead the charge to  dismantling the law piece by piece until it no longer remains.
ASA will continue to  work to
decrease suppressor processing times
Transfers should take minutes, not months. ASA will not stop working until wait times are a thing of the past.
ASA will Legalize Suppressor Ownership and Hunting in all 50 states
Since 2011, ASA has helped legalize suppressor ownership in 3 states suppressor hunting in 19. We won't stop until they're legal in all 50 states!
Contest ends Thursday, November 16, 2023, at 11:59pm EDT. Winners will be announced Monday, November 20, 2023, at 5:00pm EDT.

See contest rules below.
Contributions or gifts to the American Suppressor Association are not tax-deductible.
ASA'S 2023 THANKSGIVEAWAY RAFFLE
OFFICIAL RULES
NO PURCHASE NECESSARY TO ENTER, WIN, OR CLAIM A PRIZE
The ASA's 2023 ThanksGiveaway Raffle ("Promotion") is sponsored by and conducted for the benefit of the American Suppressor Association ("ASA"), 6085 Lake Forrest Drive, Suite 200, Atlanta, GA 30328, and all proceeds will be for the sole use of ASA. The American Suppressor Association is a 501(c)(6) non-profit trade association. Donations, gifts, and membership dues are not tax-deductible as charitable contributions.
1) PROMOTION PERIOD: The Promotion begins on October 30, 2023, at 12:01 AM Eastern Time ("ET") and ends on November 16, 2023, at 11:59 PM ET ("Promotion Period"). ASA's computer is the Promotion's official clock.
2) ELIGIBILITY: This Promotion is open only to legal residents of the fifty (50) United States and the District of Columbia who are at least twenty-one (21) years old at the time of entry. Void where prohibited or restricted by law. All federal, state, and local laws apply.
Participation in the Promotion constitutes entrant's full and complete agreement to be bound by these Official Rules and by the decisions of ASA, which shall be binding and final as to all matters related to the Promotion. Winning a prize is contingent upon fulfilling all requirements set forth herein.
Some prizes awarded in the Promotion are a firearm. Firearm prize winners must be US citizens. By entering the Promotion, an Entrant represents and warrants that he or she is permitted to possess and own a firearm according to federal, state, and local law as those laws apply to him or her. Only residents of one of the 42 states that allow private ownership of suppressors are eligible to win suppressor prizes.
3) HOW TO PARTICIPATE: During the Promotion Period, eligible entrants may purchase raffle tickets by visiting www.ASARaffle.com and following the instructions provided on that site to purchase one or more raffle tickets. ASA is not responsible for delays caused by website or internet malfunctions or reductions in website speed, or payments declined by our credit card processor or the card issuer. All raffle ticket purchase requests are subject to verification by ASA, and no sale is final until the raffle ticket purchase order is accepted by ASA.
NO PURCHASE NECESSARY: Eligible entrants may enter the Promotion without purchase by sending a written entry containing entrant's full name, mailing address, phone number, and email address to American Suppressor Association, ATTN: ThanksGiveaway, PO Box 988, Middleton, ID 83644. Entries must be received no later than November 16, 2023, by 5:00pm ET. Limit one entry per household. ASA is not liable for entries that arrive late, are lost, or not received. Due to legal restrictions, physical raffle tickets cannot be sent through the mail. Entrants will receive an email confirmation of entry.
4) RANDOM DRAWING: On or about November 20, 2023, potential winners will be selected by random drawing from among all eligible entries received during the Promotion Period. Eligible entrants will be assigned a ticket number or numbers based on their number of eligible entries. The numbers selected at random will determine the potential winners and the order in which potential winners select their prizes. If the Drawing cannot be held at that time, it will be held within a reasonable time thereafter. A list of winning ticket numbers will be posted at www.ASARaffle.com on, or about, November 20, 2023, at 5:00pm ET. Entries that are not selected in the Drawing will be discarded. All selected winners are potential winners, pending verification of eligibility and compliance with these Official Rules, as determined by ASA in its sole and absolute discretion.
To receive a copy of a list of winners, send a self-addressed, stamped envelope to American Suppressor Association, ATTN: ThanksGiveaway Winner's List, PO Box 988, Middleton, ID 83644
5) PRIZES, ODDS OF WINNING, and APPROXIMATE RETAIL VALUE ("ARV"):
ASA makes no claim regarding the actual value of any prize(s) and is not responsible for the accuracy of any value estimate provided by prize donors or anyone else. Manufacturers Suggested Retail Price listed for production items which may be purchasable for a lower amount. ASA does not guarantee the accuracy of the prize descriptions published. ASA makes no warranty as to merchantability, fitness for a particular purpose, suitability or condition of the prizes. Prizes subject to change without notice.
SWEEPSTAKES PRIZES: There are ten (10) Sweepstakes Prize Packages, with Approximate Retail Values ("ARV") ranging from $1,149.99 to $3,974.78 and a total value of $22,379.12. Official Winners must select and take delivery of their prize package in the manner described below in "How to Claim a Prize." Official Winners are solely responsible for all taxes and expenses for their selected Prize Package, including but not limited to applicable federal and state income taxes as well as transfer fees for firearms, suppressors, or other prizes imposed by the winner's chosen licensed firearms dealer, with the exception of certain NFA Transfer Taxes paid by sponsors as outlined below for certain prizes.
ODDS OF WINNING: There is no limit to the number of entries that will be distributed. Odds of winning will vary by the number of entries received.
6) HOW TO CLAIM A PRIZE: After the random drawing, ASA will notify the potential winners via email at the email address provided at the time of registration. If a potential winner fails to respond to ASA to claim their prize within seventy-two (72) hours of being notified, the prize is forfeited, and, at ASA's sole discretion another potential winner may be selected. Before being declared an Official Winner, the potential winner will be required to execute an Affidavit of Eligibility/Liability and Publicity Release and tax acknowledgment ("Affidavit"). The potential winner must return a fully executed and notarized Affidavit to ASA within ten (10) calendar days of receipt of the Affidavit or the prize may (in ASA's sole discretion) be forfeited. The potential winner may be requested to provide additional documentation for verification purposes. If a potential winner is disqualified, found to be ineligible or not incompliance with these Official Rules, declines to accept a prize, or in the event that the potential winner fails to return any requested documentation or an executed or notarized Affidavit within the ten (10) calendar day deadline (if applicable), the prize may be forfeited. If a prize is forfeited, the prize may be awarded to an alternate winner, selected in a random drawing from among all remaining eligible entries, as determined by ASA in its sole discretion. ASA will issue an IRS Form 1099-MISC to the Official Winner where applicable.
ASA will attempt to notify any potential winner as set forth above, but ASA is not responsible or liable for inability to contact winners due to undelivered emails, including without limitation emails that are not received because of a potential winner's privacy or spam filter settings which may divert any Promotion email, including any potential winner notification email, to a spam or junk folder, nor is ASA responsible or liable for incorrect contact information supplied or failure of winner to respond to communications, or ASA's failure to receive such responses regardless of cause. ASA's obligation is limited to making good faith efforts to contact a potential winner.
No assignment, transfer, conversion to cash or cash redemption or substitution of a prize is permitted, although ASA expressly reserve the right to substitute a prize with an item of comparable or greater value should the prize become unavailable. All prize details are at the sole discretion of ASA.
Entrant acknowledges and agrees that he or she cannot take possession of any firearm prize until he or she has satisfied the applicable government transfer process in-person at a licensed dealer of his or her choice as set forth in these rules. The Entrant further agrees that he or she is solely responsible for his or her compliance with all applicable federal, state, and local laws. Receipt of some prizes may be PROHIBITED IN CERTAIN JURISDICTIONS and this Promotion is VOID IN THOSE JURISDICTIONS. Firearm and suppressor prizes will be transferred through a federally licensed dealer in accordance with Federal law.
Any transfer fees for firearms, suppressors, or other prizes imposed by the winner's chosen dealer are the responsibility of the winner.
Suppressor winners must utilize a "Powered by Silencer Shop" affiliated dealer to receive their suppressor in order to have the $200 NFA Transfer Tax paid for by Silencer Shop on applicable prize packages.
7) ALL PURCHASES FINAL: Membership dues, Entries, Raffle tickets and donations to ASA are non-refundable once submitted. Any entries or donations paid in connection with this contest that are declined, rejected, returned for NSF, refunded, canceled, disputed or otherwise not made will result in removal of the entrant's purchased chances to win a prize.
8) PRIVACY: ASA may share the name, city, state, ZIP Code and email addresses of contest participants with partners and affiliate companies that are participating in this contest. Entrants agree to receive marketing communications from these affiliates as a condition of entry. Membership information, payment and/or street address information will not be shared. Information collected by ASA may also be used for membership and other contacts or mailings and, in the case of winners, to contact winners and deliver prizes.
9) PUBLICITY RELEASE: An Official Winner, by accepting his or her Prize, grants ASA, and the designees and affiliates of ASA, full permission, except where legally prohibited, to use the Official Winner's name, address (city and state only), photograph, voice and or other likeness and prize information for advertising, trade and promotional purposes without further compensation and without notice, review or approval, in all media now known or hereafter discovered, worldwide, and on the Internet and world wide web, in perpetuity. This Promotion is not sponsored, endorsed, or administered by or associated with Facebook. Instagram, Twitter, or LinkedIn.
10) INDEMNIFICATION: By entering, each Entrant agrees to abide by and be bound to these Official Rules, and to indemnify, defend, and hold harmless: ASA, and their directors, board members, officers, owners, shareholders, subsidiaries, members, partners, agents, representatives, employees, successors, parents, heirs, executors, administrators and affiliates (individually a "Indemnitee" and collectively, the "Indemnitees") against any and all liability, claims, losses, damages or causes of action of any kind however named or described with respect to or arising out of (i) an Entrant's participation in the Promotion or winning the prize, and (ii) on Entrant's acceptance, possession, misuse or use of the prize.
11) LIMITATION OF LIABILITY: An Entrant's sole and exclusive remedy for any Indemnitee's breach of duty or conduct related to the Promotion shall be limited to the return of the purchase price paid for his or her Raffle tickets. In no event shall any Indemnitee be liable to any person for any loss or injuries to earnings, profits or goodwill, or for any incidental, special, punitive or consequential damages of any person or entity whether arising in contract, tort or otherwise, arising out of the Promotion.
12) DISPUTES AND SEVERABILITY: This Promotion is conducted pursuant to the laws of the State of Idaho and is void outside of the permitted areas of participation and where prohibited. Each Promotion participant agrees that: (a) any and all disputes, claims, and causes of action arising out of or connected with this Promotion, or any prize awarded, shall be resolved individually, without resort to any form of class action, and solely and exclusively in the State of Idaho; (b) each participant submits to the personal jurisdiction of the courts in the State of Idaho for any such dispute and irrevocably waives any and all objections to such jurisdiction; (c) under no circumstances will a participant be permitted to obtain awards for punitive, incidental or consequential damages and any other damages, to have damages multiplied or otherwise increased, or to recover attorney's fees. All issues and questions concerning the construction, validity, interpretation and enforceability of these Official Rules, or the rights and obligations of participants or ASA in connection with the Promotion shall be governed by, and construed in accordance with, the laws of the State of Idaho, without giving effect to any choice of law or conflict of law rules. If a court of competent jurisdiction finds that any provision of these Official Rules, or their application to a particular persons or circumstances, is invalid or unenforceable, then the remainder of these Official Rules, and the application of all of these Official Rules to other persons or circumstances, shall not be affected by that determination, and shall remain enforceable to the fullest extent permitted by law.