As a non-profit trade association, corporate sponsorship is the backbone of the American Suppressor Association. Without it, we would not exist.
At ASA, we divide our sponsorships into two classifications based on annual contributions: Voting and Non-Voting Membership. Voting Members contribute a minimum of $10,000 per year and have the right to vote in all ASA elections. Non-voting Members contribute a minimum of $2,500 per year, but do not have voting rights.
Round-Up Financial Sponsors
The ASA Round-Up program provides our sponsors an opportunity to raise funds for ASA in addition to traditional corporate sponsorship. During the checkout process, participating companies give their customers the option to add a donation to ASA. To recognize the companies that are going above and beyond, we established three levels based on annual contributions: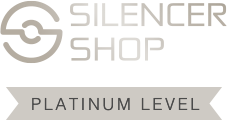 Our In-Kind Sponsors include all companies who contribute to ASA through non-monetary means. This includes gear for our demo kits, items for auctions and raffles, and services that help advance our mission.