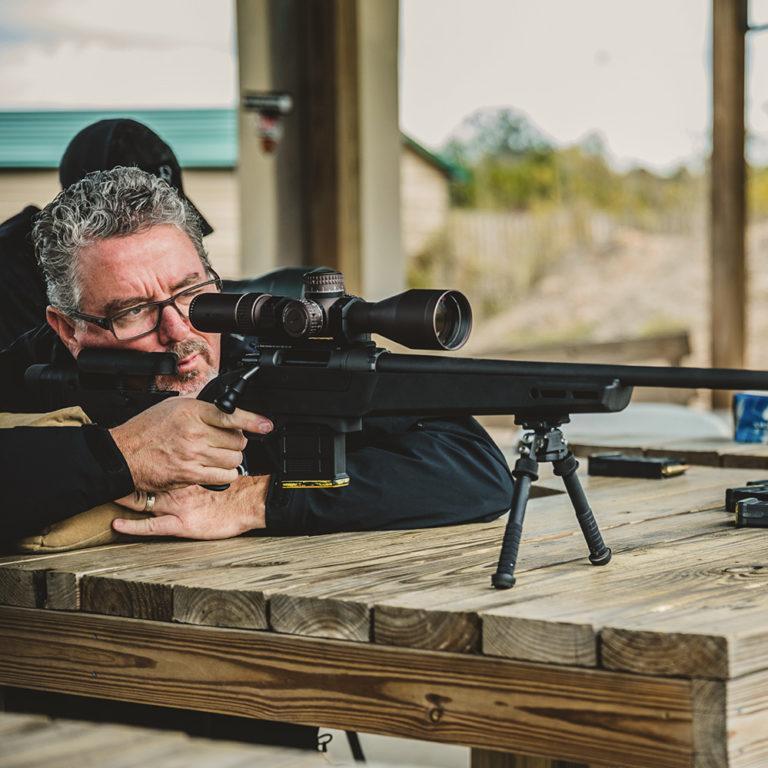 Daniel Defense — President and CEO
Marvin C. Daniel (Marty) is President and CEO of Daniel Defense. He provides strategic leadership for the company by working with the Team Leaders to establish long-range goals, strategies, plans and policies. He works closely with our Product Development team in the design of new products, and has led the effort to create a state-of-the-art manufacturing company.
Marty graduated from Pinewood Christian Academy in Bellville, GA., in 1980. Inventor and lifetime entrepreneur, Mr. Daniel received his Bachelor of Science Degree in Electrical Engineering Technology from Georgia Southern University in 1985.
In 1985, he began his career in the residential window business which he sold two years later when he entered the overhead door and fireplace business. After 24 years, Marty sold Daniel Overhead Door and Fireplace in 2009 so that he and his wife, Cindy, could focus on Daniel Defense.
At the turn of the 21st century, firearms enthusiast and lifelong shooter, Marty Daniel, had multiple concepts and designs he thought would greatly improve his M16 rifle. Unable to find these parts in the commercial market, he designed and created, big hole uppers, sling loops and rails in small batches and soon found the demand for these types of products was much greater than he could have ever imagined. Thus, Daniel Defense was born.
The newly founded company soon witnessed substantial growth. As forecasted demand justified a larger facility, Marty designed and built a state-of-the-art manufacturing plant located in Black Creek, Georgia in 2009. Daniel Defense quickly outgrew this facility, resulting in an expansion in Ridgeland, South Carolina. Today, Marty is now consolidating the Black Creek facility and Ridgeland, S.C., facility into a single operation.
Daniel Defense was recognized by INC. 500|5000 Magazine in 2012, 2013 and 2014 as one of the fastest growing private companies in America, averaging an annual growth of over one hundred percent. Daniel Defense is committed to always doing the right thing, and providing you with Small Arms Solutions™ that are Lighter, Stronger, Better…®
Marty serves on the Georgia Southern University Foundation Board of Directors and the Georgia Southern University Corporate Advisory Board to the Allen E. Paulson College of Engineering and Information Technology. He is an active member of the First Presbyterian Church of Pooler.
Marty and his wife, Cindy, have a daughter, Harlee, and a son, Connor, live in Pooler, GA.