Albany, NY – On January 9th, Senator Robert Ortt (R, C, IP) reintroduced legislation that seeks to legalize suppressor ownership and hunting in the state of New York. Senate Bill 287, which is backed by the American Suppressor Association, has been referred to the Senate Environmental Conservation Committee. If enacted, S. 287 would bring New York in line with the 42 states where suppressors are legal to own and the 40 states that currently allow hunters to use suppressors in the field.
Click here to read the full ASA Memo of Support for S. 287
"The legalization of suppressors for use during hunting activity has beneficial results for both the hunting community as well as the surrounding environment," said Senator Ortt. "By muffling the sound of the hunting rifle, we are improving safety for participants, while also reducing the audible impact the activity has on those in the surrounding area. Any informed individual would know that a suppressor does as its title states, suppresses the noise of a gunshot. It does not silence it as portrayed by pop culture. This is important gun safety legislation that should be supported by both Republicans and Democrats alike."
Sen. Ortt is correct in his assertion that allowing hunters to use suppressors would tremendously increase hearing safety. According to multiple studies, between 70 to 80 percent of hunters never wear traditional hearing protection devices like earplugs or earmuffs while hunting, largely because they want the ability to hear their surroundings. These same studies found that just over half of recreational shooters reported consistently wearing hearing protection during target practice (Stewart et al, 2011).
In a 2011 study, entitled "Noise and Lead Exposures at an Outdoor Firing Range – California", the Centers for Disease Control and Prevention (CDC) stated, "The only potentially effective noise control method to reduce students' or instructors' noise exposure from gunfire is through the use of noise suppressors that can be attached to the end of the gun barrel. However, some states do not permit civilians to use suppressors on firearms." New York is one such state. In a similar study from 2014 on noise exposure at shooting ranges, NIOSH recommended, "If feasible and legally permissible, attach noise suppressors to firearms to reduce peak sound pressure levels."
"Hollywood's depiction of suppressors might be entertaining, but it has no basis in reality," said Knox Williams, Executive Director of the American Suppressor Association. "What is real is that hearing loss related to recreational firearm use is a widespread issue that suppressors can help fix. Since 2011, three states have legalized suppressor ownership, and 18 states have legalized suppressor hunting. We applaud Senator Ortt for leading the charge to help the sportsmen and women in the great state of New York protect the hearing. We look forward to working together to help the law abiding citizens of New York more effectively protect their hearing while at the range and in the field."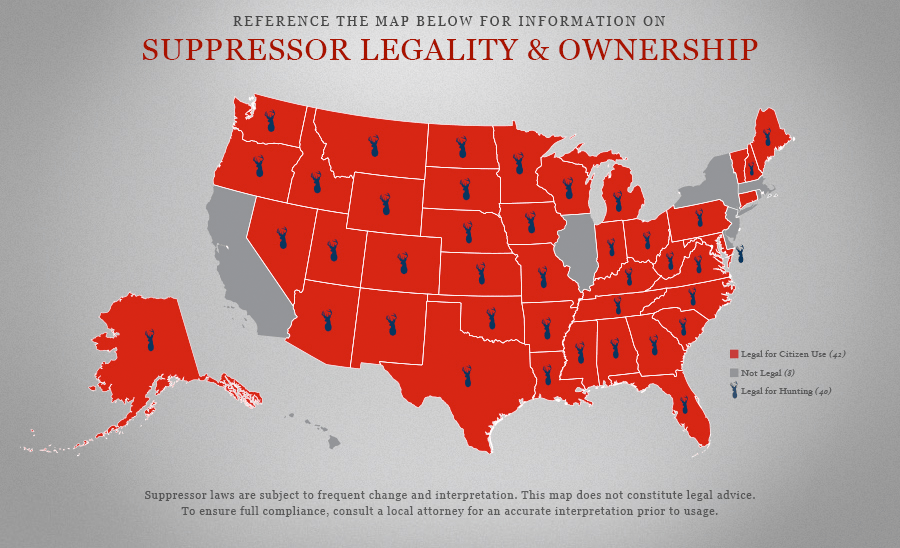 Although legal in 42 states, suppressors have been federally regulated since the passage of the National Firearms Act of 1934. Currently, prospective buyers must send in a Form 4 application to the ATF, pay a $200 transfer tax per suppressor, undergo the same process that is required to purchase a machine gun, and wait months for ATF to process and approve the paperwork. In stark contrast, many countries in Europe place little to no regulations on their purchase, possession, or use.
ABOUT THE AMERICAN SUPPRESSOR ASSOCIATION
The American Suppressor Association (ASA) is the unified voice of the suppressor industry. Our mission is to unite and advocate for the common interests of suppressor manufacturers, distribu­tors, dealers, and consumers. To accomplish our mission, our principal initiatives focus on state lobbying, federal lobbying, public education, and industry outreach.
For more information on how you can join the ASA, and help protect and expand your right to own and use suppressors, please visit www.AmericanSuppressorAssociation.com.